Last night we had pizza for our dinner at the softly opened restaurant "Solo Pizza Napulttana" in Sharq. What made me really want to try it is that the chef and all the restaurant staff are young Kuwaitis.
What draw my attention is the story behind the restaurant, I had a chit chat with the chef, Omar Al-Rifai and asked how it all started: "I went to Italy for two years, there I learned all about original pizza, it was a hobby at first but I developed my skills, and I came to Kuwait and opened my own restaurant" he said.
The interior was cozy and friendly, I really loved how everyone was working hard like one team, its not a franchise, its 100% Kuwaiti concept, great!
Did I tell you that they brought their pizza oven from Italy ? and that they serve original pizzas (Margherita, Margarita, Puffi, and Bianca) ? It was nice seeing my own pizza cooked before my eyes.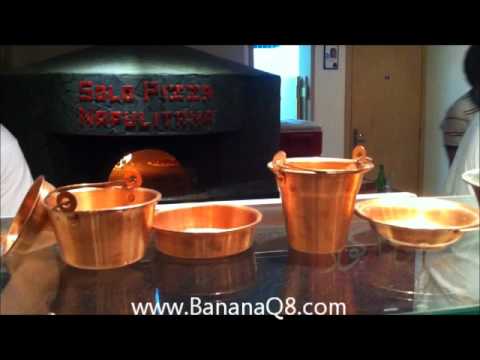 They currently have dine-in or take-away, and of course I chose to dine-in because I love the ambients and all hanging photos with the scent of Italy.
I picked spicy Margherita, and it was sinfully delicious, hot and fresh, loved it ! I also had Dolce bun with Nutella for the dessert, yummy !
My general experience was great ! I loved this little cozy restaurant and I will visit it again very soon. The prices were reasonable, my bill was 4 K.D.
Contact:
Phone: 94434104
Opening Times: 6:00 pm – 11:00pm
7 people like this post.